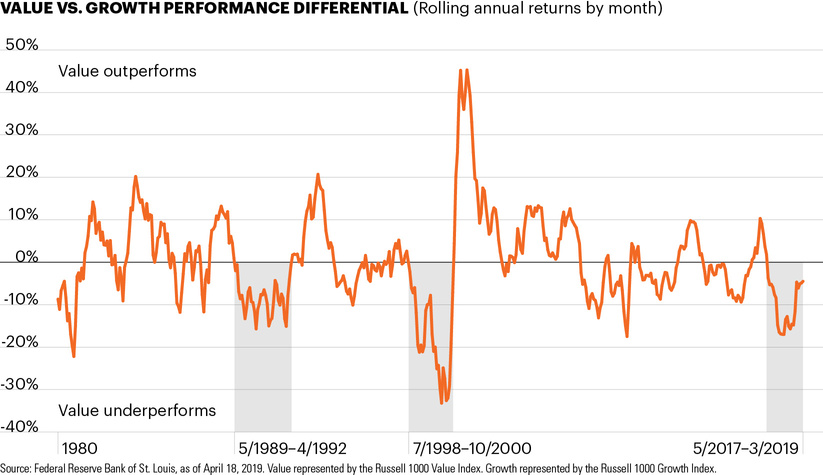 Following the financial crisis, the S&P 500 Index has generated annualized returns of 14.2%.1 However, much of this headline return over the past decade was driven by strong performance among large-cap growth stocks.
Since January 2009, large-cap growth stocks have returned approximately 16.6% compared to 12.1% for large-cap value stocks over the same time frame.2
Recent market performance has punctuated this longer-term dynamic. For example, large-cap value stocks are in the midst of a 24-month period of underperformance versus growth stocks.2
We've seen similarly extended growth-value performance differentials in only two other instances since 1980 – a 36-month period beginning in 1989 and a 28-month period during the dot-com bubble in 1998. As the chart highlights, value stocks experienced strong subsequent rebounds versus growth stocks in both cases.
Given growth stocks' strong performance over the last two years, fueled in large part by the technology sector, investors are keeping a close eye for any signs of a weakening global economy or other catalyst which might prevent growth stocks from reaching the lofty earnings expectations. As investing styles rotate in and out of favor, the current environment has many value investors believing that value investing is not dead – perhaps just dormant.