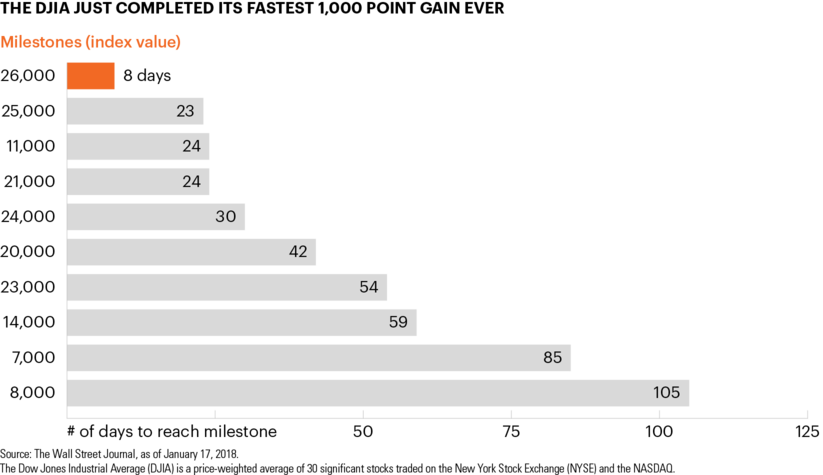 U.S. stock indexes reached new highs again this week, with the Dow Jones Industrial Average climbing above 26,000 before experiencing some selling pressure later in the week. The index's recent thousand-point climb from 25,000 to 26,000 was, by far, its fastest ever, outpacing its second-fastest such rise by more than two weeks.1
Investors have enthusiastically helped propel stock prices higher, with stock funds worldwide seeing their sixth-largest weekly inflow ever in mid-January.2 For its part, the financial press has described recent market activity as a "melt-up rally" and noted that the "few remaining bears are finally giving up."2,3
While investors remain enthusiastic about the economy and the equity markets, it's important to remember that certain investment challenges remain in place.
For one, finding income continues to be difficult. The yield on the 10-year U.S. Treasury note was approximately 2.64% on Friday.4 This week it rose slightly above the band inside which it has traded since early 2017, yet it's still very low relative to its post-crisis high of 3.98% in April 2010.4 Meanwhile, yields on investment grade bonds sit at approximately just 3.4%.5
Additionally, the recent run within the equity markets has come amid historically low levels of volatility. While no one knows what the future holds for stock market performance, investors might be wise to watch market conditions should volatility once again enter the markets from such potential sources as Fed policy, consumer demand and employment trends.