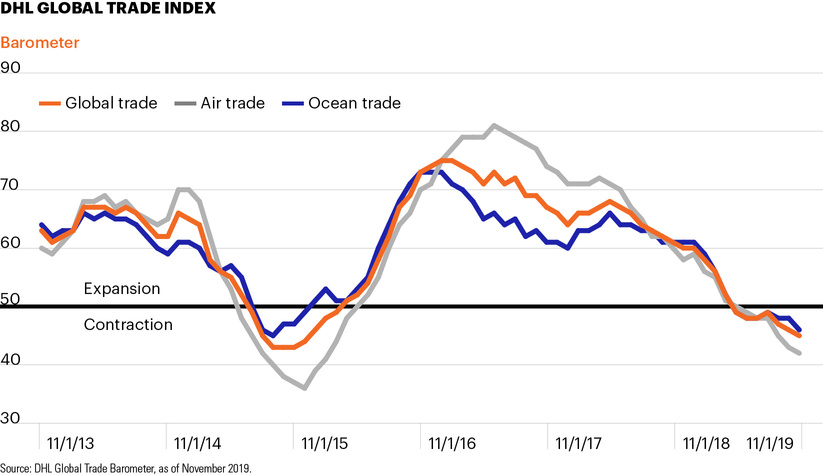 Trade relations took center stage again this week as President Trump indicated that negotiations on a phase one trade deal with China could drag into next year, said he would raise tariffs on steel and aluminum imports from Brazil and Argentina, and threatened new tariffs on French imports.
Volatile trade relations between the U.S. and China have largely dominated the market's attention for nearly two years. However, data released this week shows that international trade conditions – well beyond those of just the U.S. and China – have been on a steady downtrend since May 2018, reflecting the broader downturn in the world economy.
The chart shows movements in the DHL Global Trade Barometer, which is an index that measures both the current state and future development of global trade. Pointing to a protracted slowdown in trade worldwide, the index fell to a four-year low in November and sank deeper into contraction mode, where it has been since May.1 Of the seven major countries the barometer tracks, six are currently in contraction.1
With a recent upturn in economic data in the U.S. and globally, markets have seemed to take comfort from the idea that the risk of a U.S. or worldwide recession has faded.
Still, trade represents a significant portion (nearly 60%) of global GDP and a continued downturn is a signal that the global economy could remain in the low-growth rut it has been in for the past two years.2 Against this backdrop, investors should be prepared for a sustained environment of low interest rates along with periods of heightened market volatility.