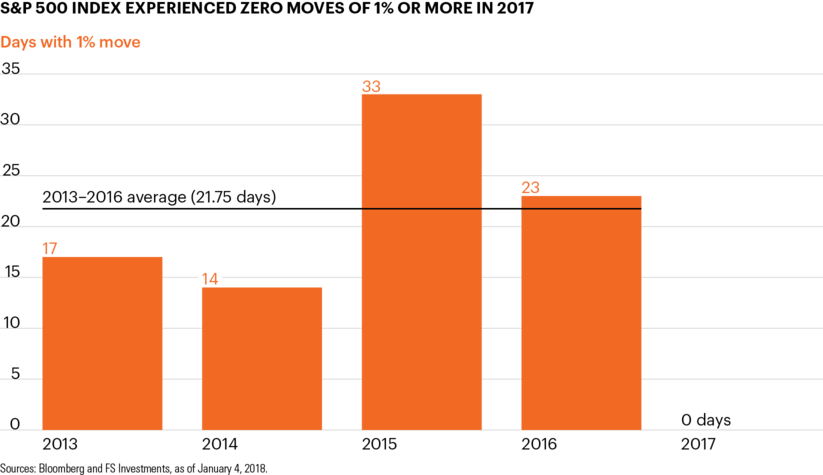 As 2017 came to a close, the S&P 500 Index continued its progress on what has been an unprecedented run. December 31, 2017 marked its 14th consecutive month of positive returns.1 Never before has the S&P 500 Index generated positive monthly returns for so long a period.1 In fact, its last negative monthly return came in October 2016, when it returned approximately -1.8%.1
However, there is a strong relationship between equity valuations and forward returns. Periods of high equity valuations have historically been followed by relatively low future returns, and the inverse is true for periods of low equity valuations.
The recent string of positive equity returns has been even more remarkable because it has come amid historically low levels of volatility.
For example, the S&P 500 Index did not experience a single move, up or down, of 1% or more in 2017. It averaged almost 22 such days in each of the previous four years.2 Using another indicator, the CBOE Volatility Index, which measures market expectations and near-term equity volatility, averaged just 11.1 for the year and spent much of 2017 below 10.3 For context, this was far below the index's historical average of approximately 19.1.3
While no one knows for certain what the future holds for stock market performance, investors might be wise to watch market conditions should volatility once again enter the markets in 2018.