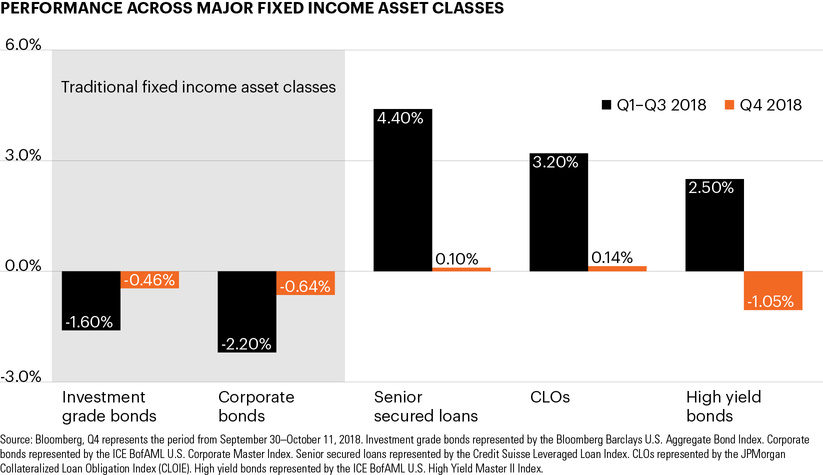 After reaching a 7-year high last week, interest rates remained elevated this week.1 The 10-year U.S. Treasury yield climbed above 3.25% on Tuesday before moving slightly lower later in the week.1 The 10-year yield has climbed as high as 80 bps YTD, and as much as 16 bps of this rise came in the past 11 days.1
The 10-year's sudden rise has helped spur a rapid sell-off across many stock and bond asset classes. As the chart shows, traditional fixed income investments have seen substantial declines this year. In just the first two weeks of October, investment grade and corporate bonds are on their way toward matching their declines of the first three quarters of 2018.2
The decline is largely due to investment grade bonds' sensitivity to changes in interest rates, which is significantly higher than a decade ago.3
In contrast, senior secured loans and CLOs, which consist of a pool of underlying loans, feature significantly less interest rate risk than traditional bonds and have maintained modestly positive returns in October.3
Amid rising rates, investing in a broad range of fixed income asset classes with varying levels of interest rate risk may help buoy a portfolio's returns while also providing a competitive level of income.