Tuesday, the S&P 500 finished down 0.8% and is now over 5% lower than its recent high on April 30. The financial news media is citing fresh global growth concerns. Yet the fixed income market has been flashing warning signs all year that have largely been ignored by equity investors. Falling yields, a perfect storm of policy uncertainty and the looming economic slowdown mean investors should prepare for higher volatility.
The bond market is worried. Monday, the 10-year U.S. Treasury tested below 2.22%, the lowest since September 2017 and a full 100 bps down from its peak in early November 2018. What story is the 10-year telling us? Remember that short-term interest rates often reflect expectations of Fed rate policy. Long-term interest rates, however, reflect market expectations of growth and inflation. Clearly, global growth concerns are weighing on bond markets.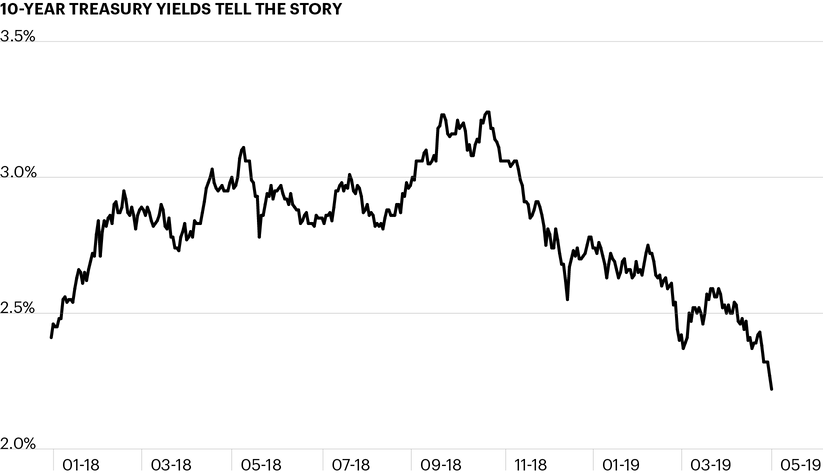 Bloomberg.
While bond markets have been flashing warning signs for some time, until recently equity markets have seemed decidedly more optimistic. Earlier this year, equities handily retraced losses from the end of 2018, and less than a month ago, the S&P 500 reached a new all-time high. However, what many investors miss is that much of this strong performance has been due to a dramatic shift in Fed rate expectations, not necessarily an improvement in equity market fundamentals.
As recently as six months ago, markets were pricing in at least two Fed rate hikes by the end of 2019. In Q4, equity market volatility and continued low inflation data caused the Fed to pivot in January to a "patient" stance.1 Markets have gone further, however, and in March began to meaningfully price in more than one Fed rate cut by the end of this year. That is a swing of almost 100 bps in Fed rate expectations, and arguably outpaces what the Fed is actually prepared to do. Recently, a chorus of regional Fed presidents have reiterated that a patient approach reflects an economy growing at a moderate pace. In other words, the Fed sees risks, but it feels that a patient approach to rates may be "appropriate for some time."2
Yet we think markets may have gotten ahead of themselves by pricing in an 86% chance of a Fed rate cut by the end of 2019, with 49% now expecting two or more rate cuts in 2019.3 Yes, U.S. data has softened, and the economy is slowing. But the Fed's GDP forecast already includes a slowdown.4 Data in April has disappointed, including an unexpected 0.2% drop in retail sales. But consumer sentiment indicators like the Conference Board's measure of consumer confidence remain near the 19-year high seen only eight months ago. With the unemployment rate at its cycle low of 3.6%, the outlook for the consumer remains constructive. At the end of the day, the U.S. consumer is the single largest sector affecting U.S. growth.
Equity earnings expectations, meanwhile, reflect a much wider range of concerns. Remember that the S&P 500 includes large multinational companies that depend on international revenue generation. Trade tensions have amplified uncertainty about global growth and have had an outsized impact on business sentiment. Indeed, recent business investment data shows a meaningful slowdown in capital spending, and the ISM manufacturing survey, a key business sentiment indicator, hit a two-and-a-half-year low in April.
Bloomberg.
Outside of this more-challenged earnings environment, volatility looms from multiple sources. Equity markets may yet be too optimistic about the probability that the Fed will step in and calm market agitation with rate cuts. Moreover, the Fed is well aware that its own monetary policy can do little to dispel market volatility related to trade tensions. The significant decline of the 10-year Treasury yield is a sign that global growth expectations continue to erode.
A deceleration in growth is difficult for investors to navigate, particularly because the current expansion is already over 10 years old. We don't forecast a recession, but even a downshift in growth means slowing revenue generation and more moderate aggregate demand. As we enter the second half of 2019, we believe managing volatility should rise to the top of investment objectives as the economic slowdown takes shape.